WP-Backlink-Exchange
Mofiki's WordPress Backlink Exchange is a plugin for WordPress websites and blogs that will create thousands of backlinks to your site. Mofiki's WordPress Backlink Excange plugin is a widget that you can place anywhere on your site (that accepts a widget). As long as the widget can be verified through our servers (checked every few days) any page you have it on will be added to the database and show up on other websites.
How does Mofiki's WordPress Backlink Exchange Widget Work?
The Free Backlink Generator creates a widget for you to add to your sidebar or anywhere else a widget can be placed on your site. The widget will display 5 random links from other users of the widget but will randomly show your links on thousands of other websites that use the widget as well. Basically for 5 backlinks on your website we will give you thousands.
You can see an example of the plugin on this pages sidebar to the right with the title "Mofiki's Backlink Exchange".  You will be able to specify the title when placing the widget.
What Happen's When I Remove the Widget?
When you remove the widget from your WordPress site any backlinks that were generated from it will slowly be removed over a 2-3 day period until all backlinks are no longer active in the system.
If the Backlinks are Random and Change on Every Page View How Do they Help?
Every time Google or any other bot scans a website for links they will find the links that are active at that time and give credit for them. Google is faster at finding links and passing credit for them than they are at removing credit for removed links.  Use the plugin to generate free backlinks for a month and look at your webmaster tools stats and see the proof there.
Get 1000's of Free Backlinks to Your WordPress Blog – (Download Link)
We are currently in the testing phases although the plugin will be available soon in the WordPress Directory. Until then please feel free to download the plugin via the link above and help us test it out. You will get backlinks now although backlinks will increase considerably once in the wordpress directory.
WordPress Backlink Exchange Widget Update May 29th 2012:
There is now an admin area that will show under your wordpress settings tab for Mofiki's "Backlink Exchange" that will show you the current number of links your domain has in rotation along with the total number of pages within the cycle. Here you can see how well your website is showing in our directory and get a general idea of how many backlinks you can expect to see within your webmaster tools statistics.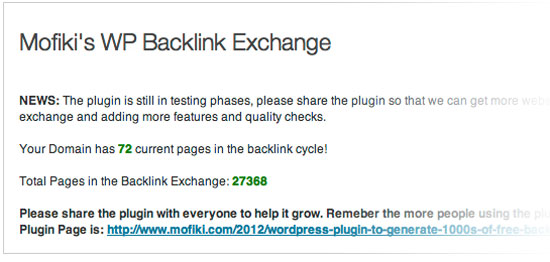 We will be continually adding new features and reports to the Admin area for the plugin over the next several months. Please update to the newest version by downloading it here.
Get 1000's of Free Backlinks to Your WordPress Blog – (Download Link)
You can deactivate and delete your current version and reinstall it with the new version without any interference or loss of links. There will be an auto update feature added shortly whether through the WordPress plugin directory or within our plugin itself. We are still waiting for word from WordPress if they are going to accept it into the directory. Until then please check back here for updates.